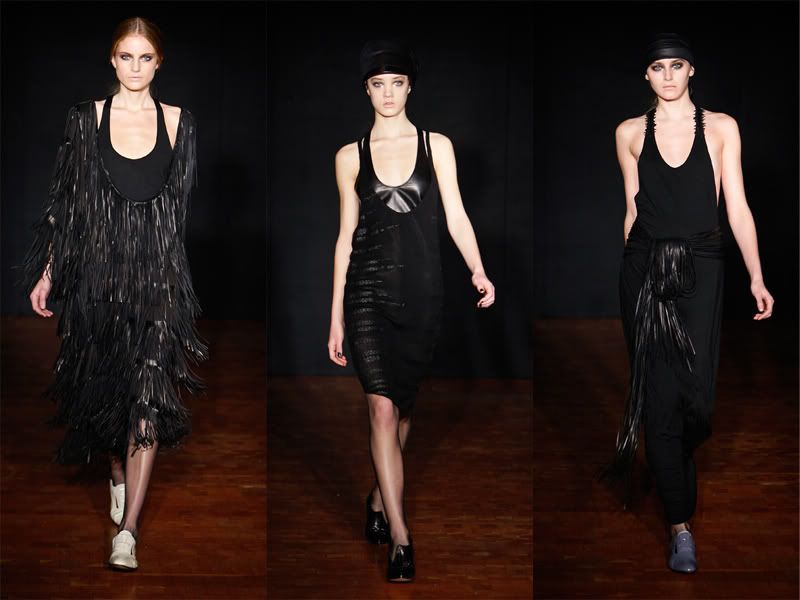 The AW 08-09 fashion show of Danish designer Camilla Staerk was the perfect instance of how a "i-don't-know-what-to-do" invitation can turn into a really gratifying experience.

The presentation took place at one of my favourite spots for fashion shows, The Scandinavia House in Manhattan (the reason why i fancy this place is quite haphazard ; let's say everything "Scandinavian" is just cool per se ) and it was presented by Gen Art that broadcast the work of only one designer, Camilla, for the first time in their history.
The collection impressed me, I must admit. From the beginning to the end. I took notice of the styling for the first time in my life, which is funny when one is a stylist: all the pieces were put together in a very interesting way and there were some details, like the big hat at the end and some fabric combinations, that kept my attention excited. Actually as soon as I could I asked for Camilla's PR in New York to borrow clothing for my next photo shoot...

Although she once said "I am becoming too known for dark and melancholy, and I don't want to be" Camilla is back to her beloved black which I think is a good move: I find her more powerful designing black pieces than colorful. Or that was my impression after seeing her SS 07 collection .

In another note, I'd like to mention the fact that w hen I tried to find further information about the designer I stumbled upon another website also under the name Camilla Saerk and which look and font and navigation was exactly like the real one... the only difference was the designer, in this case an Epsom School of Art graduate (a place which webste i couldn't find) named Roger Craig Searle.

It got all really confusing to me and thanks that I saw the designer with my eyes I knew she is a woman, otherwise I would definitely think that Camilla was Roger... I can't really talk about this because I don't know anything about it but i just guess they started a collaboration together, it didn't work out and Camilla decided to start her own new line.
It must be upsetting not to have full ownership of your own name, it makes me think of the great Jil Sander when she "lost" her name to Prada.

all images courtesy of dkcnews